Roll over image to zoom in
---
---
Our world-class Customer Experience team is here to answer all of your questions and make your buying experience rad.
Help Centre
Expanded Shipping Window
You may have noticed that the shipping date for some models is currently listed as several months away.
While we understand that this is a long time to wait, we wanted to make sure that these bikes were available to purchase for any rider who had their heart set on a preferred model and wanted to secure theirs well in advance.
The dates listed are as accurate as possible, but please note that the entire manufacturing world is in the middle of a global supply chain challenge. As a result, there are some variables that are out of our control (like container shortages, port delays, and the Suez Canal incident).
We know how excited you are to get your new ebike and we are continually scaling up our operations to get it to you as soon as possible.
Assembly Difficulty
Anyone Can Do It
Leave It To The Pros
Our riders say that this model is easy to assemble, our ebike assembly service will have you ready-to-ride
---
LET A PRO BUILD IT FOR YOU
Have Your Bike Built By a Professional.
To meet the needs of our busy riders, we offer on-demand ebike assembly, pickup and delivery. Rad electric bikes come mostly assembled in the box, however some ebike models are more difficult to assemble than others. The "Assembly Difficulty" indicator above can give you an idea of how difficult this bike is to assemble.
---
---
Technical Specifications
What Makes the RadRover 6 Plus Best in Class?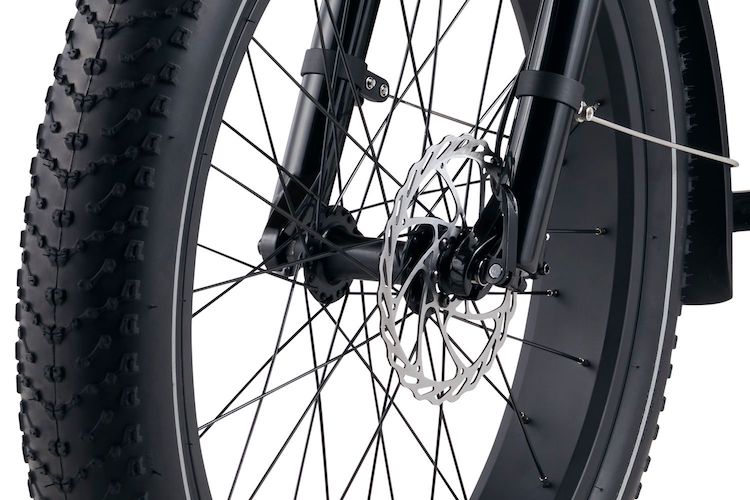 Hydraulic Disc Brakes for Greater Stopping Power
All-new hydraulic disc brakes provide superior stopping power, respond to a lighter touch, and give you more control over your ride. The ergonomic design reduces rider fatigue and can be adjusted to accommodate the size of each rider's hand.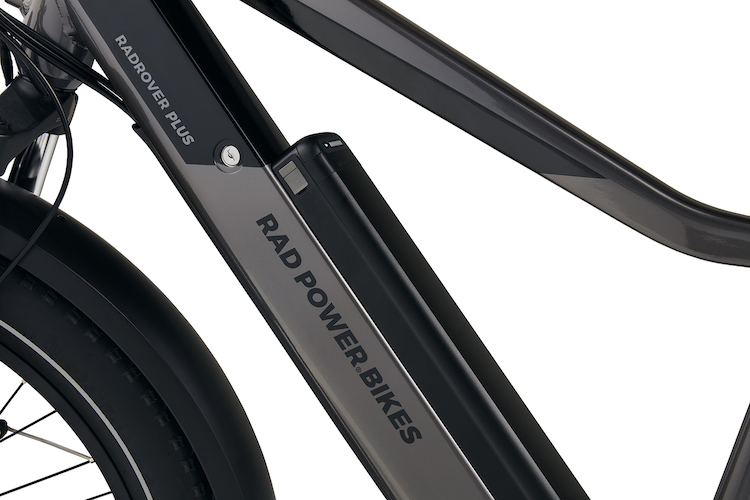 Easy to Remove Semi-Integrated Battery
The sleek, proprietary semi-integrated battery has been engineered in-house for an enhanced user experience. It's now easy to pop in and pop out with one hand to take with you on the go. It features a user-friendly 10 LED display to keep an eye on your charge and a practical grip for greater portability.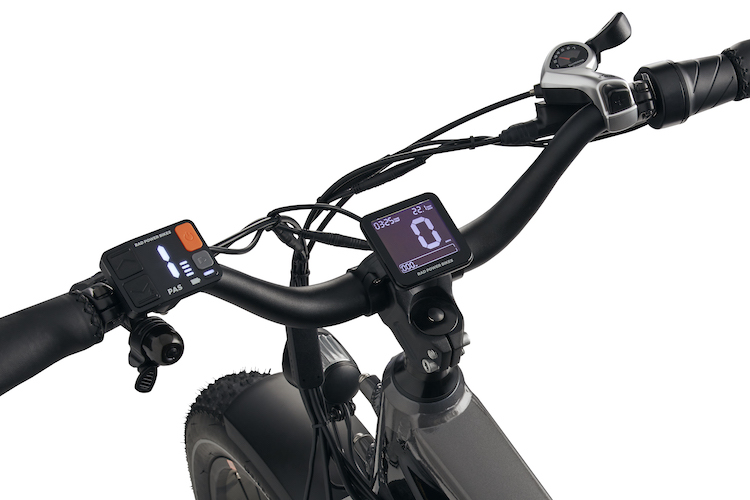 A Simplified User Interface for Easier Functionality
The intuitive Rad User Interface improves operability. The large, practical buttons offer a simplified riding experience, and the Rad Display depicts real-time stats, including mileage and power output. It features both trip time and a clock so you can leave your watch at home.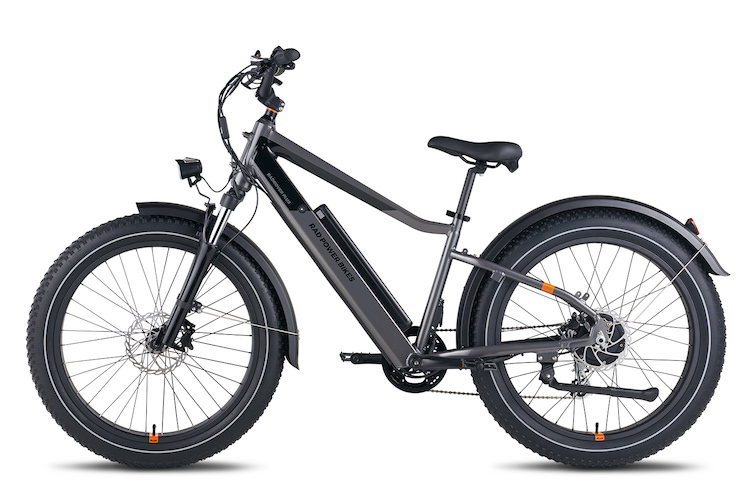 Redesigned, Ergonomic Frame for Added Comfort
The frame has been re-engineered in-house to better accommodate riders at the bottom end of our height recommendation range. The enhanced ergonomics and improved handling promise a smoother, more confident ride.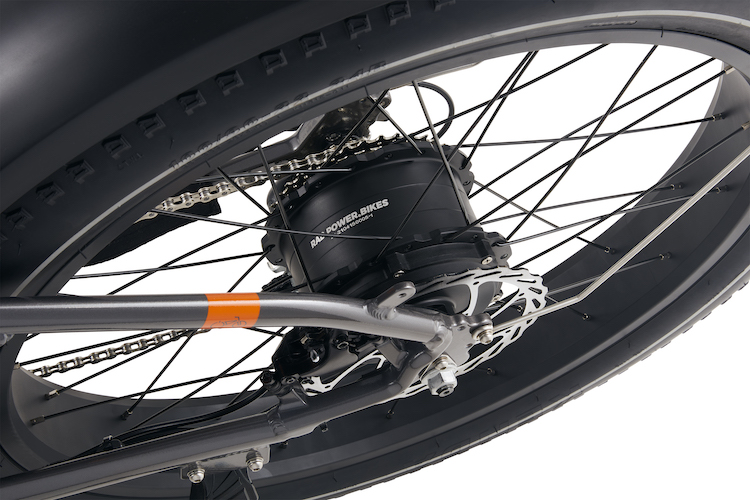 Custom Geared Hub Motor With Enhanced Hill Climbing Capabilities
Our engineers have fine-tuned the all-new 500W geared hub motor to provide more power, more efficiently. You can now conquer hills faster, get up to speed quicker, and experience a consistently stronger ride — even at lower speeds.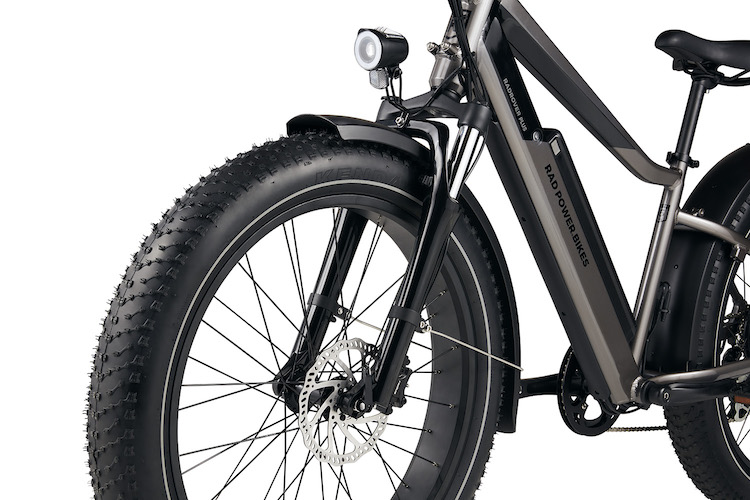 Robust, Versatile Suspension
To help you navigate difficult roads with even greater ease, the durable Rad Power Bikes custom suspension fork has preload adjustment for the spring's stiffness, as well as a lock-out lever. With 60mm of travel, it's capable of complementing a wide range of rider weights and terrain.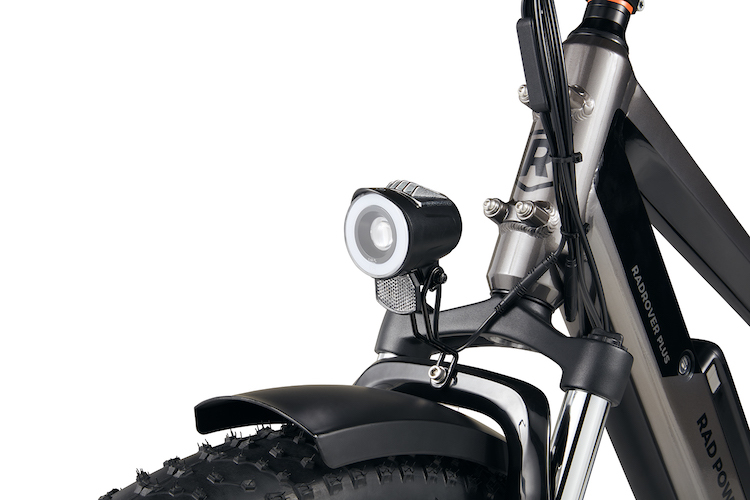 Auto-Activate Lights for Safer Night Rides
The RadRover 6 Plus comes standard with a halo headlight, tail light, and integrated brake light for improved visibility. The lights activate when the bike turns on for greater peace of mind.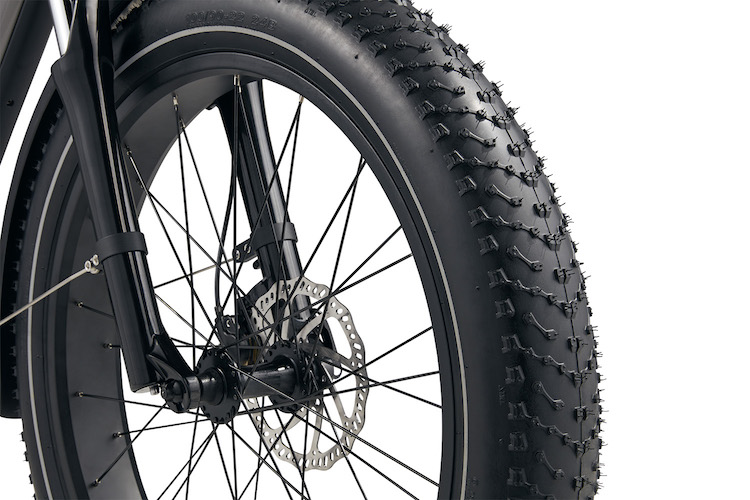 Durable 26" x 4" Fat Tires
Take on more with the classic, puncture resistant, rugged fat tires with built-in tire liners and reflective sidewalls.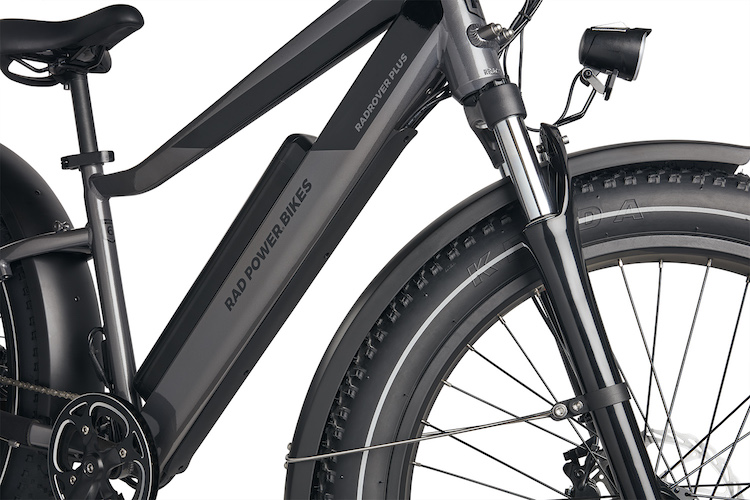 Custom Cable Covers for Easy-Access Maintenance
Custom, sleek cable covers protect shifting, brake, and electrical connections and ensure easier maintenance.
Accessories For You
Customize Your Ride
Proven fat tire electric bike...with great attention to detail and safety.
RadRover 6 Plus
Introducing the RadRover 6 Plus: Radically Redesigned
What do years of in-house engineering mean for the rider? More comfort, more ease, and more versatility. Take an in-depth look at the RadRover 6 Plus' groundbreaking design.