The RadWagon is the ultimate electric cargo bike boasting premium features and a powerful 500W 48V power system. The RadWagon handles just like a standard sized bike yet can handle big cargo loads with ease. Stylish, safe, and comfortable, the RadWagon is a great addition for your business!

---
Each component of the RadWagon was hand selected by our team of experienced ebike enthusiasts who understand the expectations and real world applications businesses are looking for. The end result blends our favorite features for urban travel. We're proud to ride this fully featured commuter bike that is feature rich without the price tag normally associated with comparable ebikes on the market.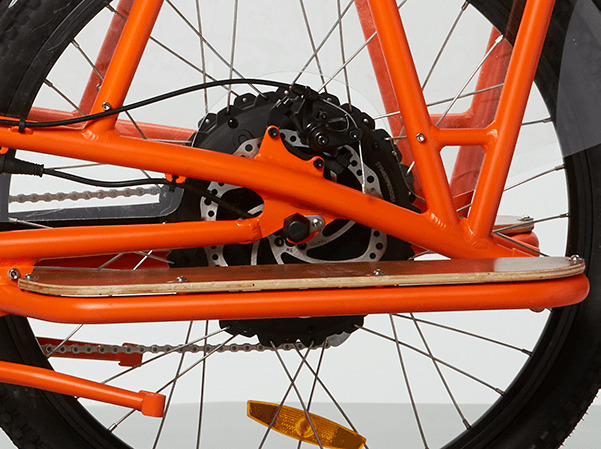 500W Direct Drive Hub Motor
The direct drive hub motor provides smooth acceleration and features regenerative braking to help recharge the battery any time you engage the brake levers.
14Ah Lithium-Ion Battery
Our new and improved 48V 14Ah (672Wh) batteries give you an estimated 40-72+ km per charge while maintaining a sleek profile.
Twist Grip Throttle
Get 500W of power on-demand with the twist grip throttle. The included on/off button helps prevent accidental activation and allows you to only use the throttle when you want to.
Integrated Rear Rack
Take the weight off of your back and have the RadWagon carry it for you. Attach panniers, platforms, or baskets to accommodate various sizes of cargo.
---
Universal racks that are compatible across all of our 2018 electric bikes will be available in Q1 of 2018!
---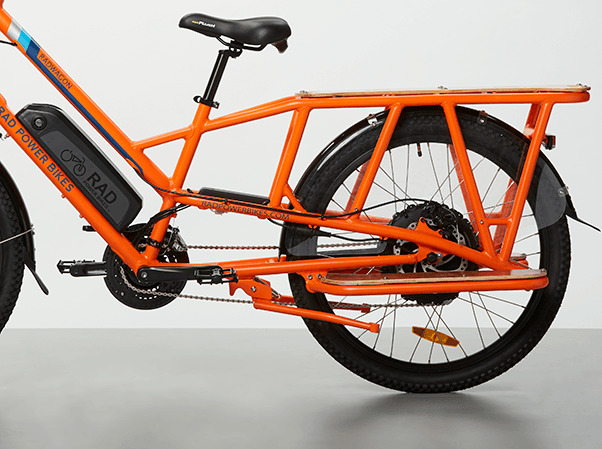 SPEND LESS TIME CHARGING AND MORE TIME RIDING
The RadWagon gets an estimated range of 40-72+ km per charge, allowing you to get a full day's worth of use without having to stop to plug in. If you are a heavy user and find yourself needing more range, batteries can easily be swapped to quickly double your range!
Estimated Range
40-72+ km
---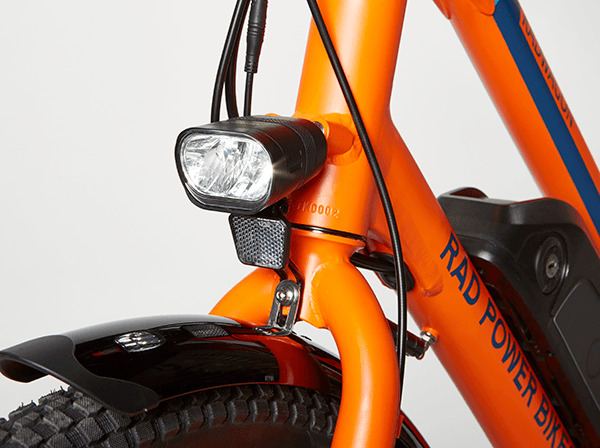 LED Headlight
Turn on the integrated, high-powered LED headlight with the press of a button to light the path ahead on your next adventure. Never get left in the dark.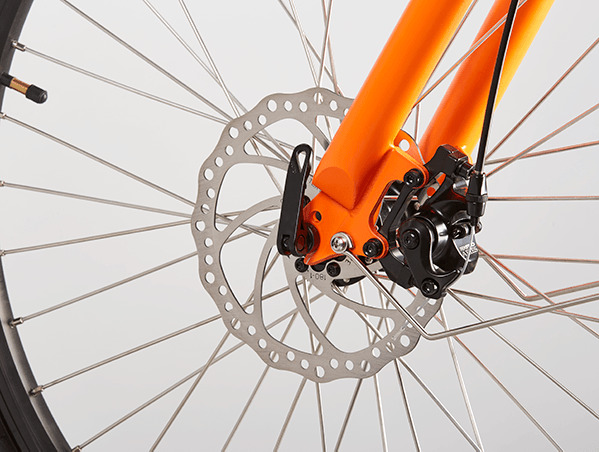 Powerful Brakes
Front and rear 180mm Tektro mechanical disk brakes provide you with strong stopping power, even in loose terrain. Stop faster when it counts the most.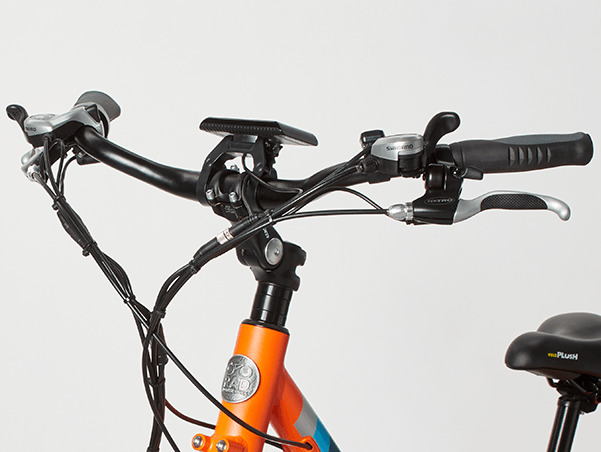 Motor Safety Cutoff
Both brake levers automatically cut off the motor power when they are applied to keep you safe in even the most surprising situations.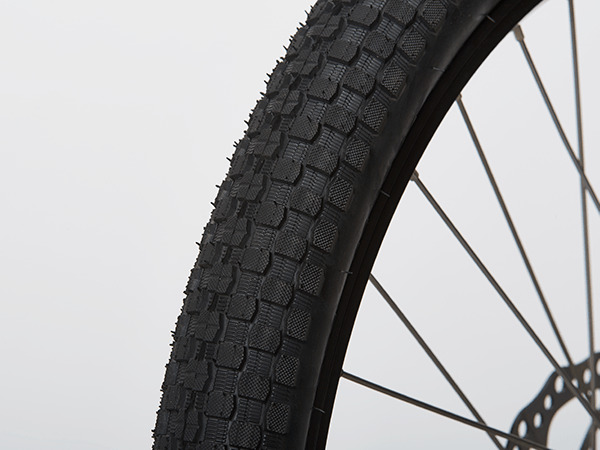 Urban Tires
The 2.3" wide tires are wider than many traditional commuter bikes. This helps increase traction, provides more stability over bumps, and extra cushion for a smooth ride.
---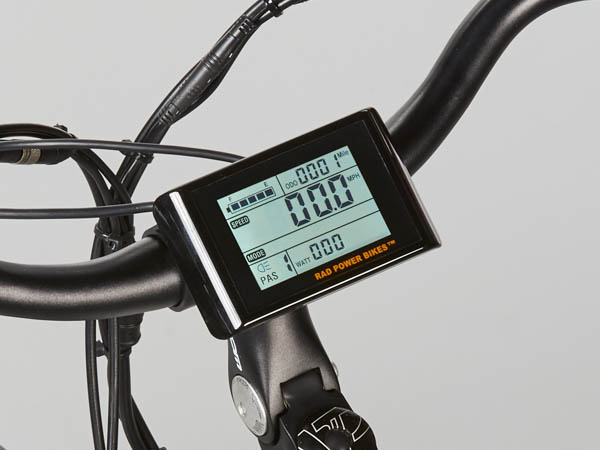 All the Information You Need At the Tips of Your Fingers
The Rad Power Bikes LCD display provides you with all the information you need when out on a ride. It's securely mounted directly to the handlebars and the display angle can be adjusted to accommodate different sized riders.
Speedometer
Full speed ahead with the large speed display.
Wattmeter
A handy power meter to show you how much electricity you are using at any given time.
Battery Life
A fuel gauge for your electrons!
Pedal Assist Level
Indicated the pedal assist level. The higher the number the more the motor will boost you when you pedal.
Trip Odometer
See how far you go on your next epic adventure.
Odometer
Calculate how many miles you didn't drive this year and how much money you saved on gas!
USB Charging
Charge your phone or portable electronics on the go with the provided USB port.
---

Rad Power Bikes sources components from the top manufacturers in the bicycle industry, making our ebikes durable, reliable, and easy to maintain. Since the majority of the components we use are commonplace in the bicycle industry, any reputable bike mechanic can service our bikes without issue.
---

ABOUT US
We are a group of dedicated ebike enthusiasts, product designers, and entrepreneurs with a passion for business and technology. Since its inception in 2007, Rad Power Bikes has been at the forefront of electric vehicle development, pioneering technologies from high capacity lithium-ion batteries to ebike status gauges.
After years of product refinement, our ebikes are now ready for use in commercial markets. As the experts in our field, we build great bikes and provide exemplary service and support to keep customer fleets running at their best. In addition to dependable product and industry-best pricing, we have a full-time customer support team who provide same day responses to all issues in the field.
We have spent the last 10 years revolutionizing the consumer ebike market and we're ready to take what we've learned to improve operations across the commercial landscape!
Commercial Sales Director: Brian Rinckenberger
(800) 939-0310 x114